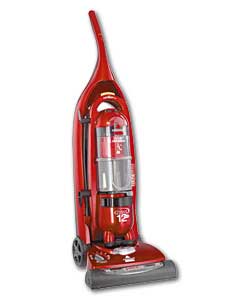 In my opinion, there is something so nice about a freshly vacuumed floor. I just love the lines that the vacuum cleaner makes and the way the carpet gets all fluffed up. Then, when you first walk across it, your footprint is left behind. I like vacuuming when no one is here, just so I can sit and enjoy looking at the carpet. HA! I know. I sound silly, but it does my heart good to see clean carpet.
When we first married, I asked Mr. U what part of keeping a home meant the most to him. His answer? Vacuuming!!! Before we married, I could not have cared less about vacuuming (just ask my mother!!). But, for Mr. U, I'd happily do it. You know what? As it has turned out (much to my mother's surprise), I LOVE vacuuming!!! Look what I had been missing out on all my life!! Who knew?
My vacuuming days are usually Mondays and Thursdays (unless company is coming, then I'll pull my trusty Bissell out and do extra vacuuming). Yesterday, however, I didn't have time to vacuum (all those errands I had), so I vacuumed today. So, here I sit, at the computer, drinking a Diet Coke and enjoying all the fluffy carpet and wishing that I could walk on air for a bit so that it would stay just like it is- lines and all.
I just love a freshly vacuumed floor.