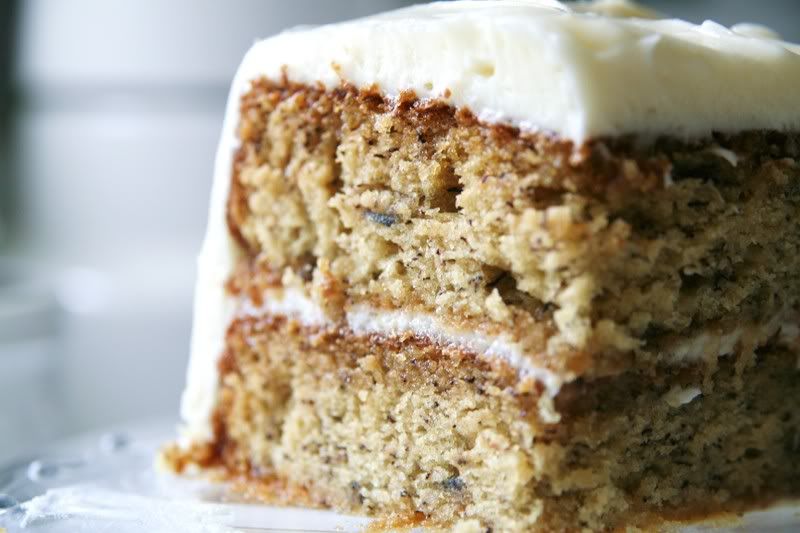 We had family come in town a week ago and I wanted to make a cake. You know me, I'll look for any special occasion to make something sweet- especially a cake!! Cake just screams
CELEBRATION
, in my opinion. :)
I found a recipe for a
banana cake on Allrecipes
. Of course, I couldn't leave the recipe alone. I just
had
to tweak it some. :) Here's the recipe with my modifications. :)
Banana Cake with Cream Cheese Icing
2 1/2 cups all purpose flour
1 T baking soda
1/4 tsp salt
1/2 cup unsalted butter, softened
1 cup white sugar
3/4 cup brown sugar
2 eggs
1 tsp vanilla
3 large ripe bananas, mashed
2/3 cup sour cream
Grease and flour 2 (9 inch) round pans. In a small bowl, combine flour, soda and salt; set aside.
In a large bowl, cream together softened butter and both sugars until fluffy. Beat in eggs one at a time. Stir in vanilla. Mix in the bananas. To the creamed mixture, add the flour mixture alternating with the sour cream (starting and ending with the flour mixture). Once well mixed, pour into the prepared pans.
Bake for 30 minutes at 350 degrees. Remove from oven and let sit for 10 minutes. Turn out onto cooling rack to cool.
Cool completely before icing.
Cream Cheese Icing
12 ounces of cream cheese, softened
3/4 cup of butter, softened
20 ounces of powdered sugar
1 1/2 tsp vanilla
Beat first two ingredients until smooth. Gradually add in powdered sugar, beating at low speed, until light and fluffy. Stir in vanilla.
Tip:
A lady at our church owns a bakery. She told me that icing goes on cakes much easier when the cake is very cold or frozen. So, I will make the cake layers the day before I want to serve it, wrap each layer well and put them in the freezer overnight and then I put the icing on the next day. Yes, I frost it straight out of the freezer! There are NO cake crumbs in my icing. :)