I LOVE to cook!! I remember being in the kitchen with my mom when I was little and "helping" as much as any 5 year old can. Then the teenage years set it and, boy, was I selfish!! I remember my mother asking me "How in the world are you ever going to cook for your family if you never help me cook now?" My answer? "Mom, I'll just read the directions."
Okay, so I was Miss Smarty Pants and not very honoring to my mother. I've repented, believe me. When Mr. U and I married, I had to call my mom SEVERAL times a week to ask her (what are now) simple cooking questions- "How long do you boil chicken?", "How long do you boil eggs?", "How in the WORLD do you cook fresh green beans???" and on and on and on. Things I
would
have learned had I been less selfish and continued under the tutelage of my mother.
Mr. U and I married in 1998 and around that time
Food Network
was just starting to become popular in my area. I remember watching
The Iron Chef
and thinking "NO WAY am I cooking
that
for my family!!!" Then I discovered
Rachael Ray
and I was in heaven!! Between what I remembered from my mom when I was young, calling her on the phone almost daily for cooking help, and watching Rachael Ray, I have learned to cook- and I LOVE it!!
But, sadly, all the cooking shows these days seem to cook pretty much the same things. I'm not saying I'm an expert cook, but I LOVE to learn new methods instead of the "same old same old". I used to tape my favorite cooking shows and watch them in any spare (and rare) moments. But nothing really excites me anymore about the cooking shows.
Thankfully,
Food Network
has a new show on called
The Gourmet Next Door
with Amy Finley and I LOVE this show!!!!! Amy seems to really want her viewers to learn more about cooking. I can't wait to see more of her shows.
Also, I just discovered that
PBS has Julia Child videos ONLINE
!!! You can view her cooking with guest chefs for free!!! I remember my mom watching her show a few times and I remember her voice, but I've never watched an episode of her cooking shows. I love that I can watch her online. Wow! Modern technology!!!!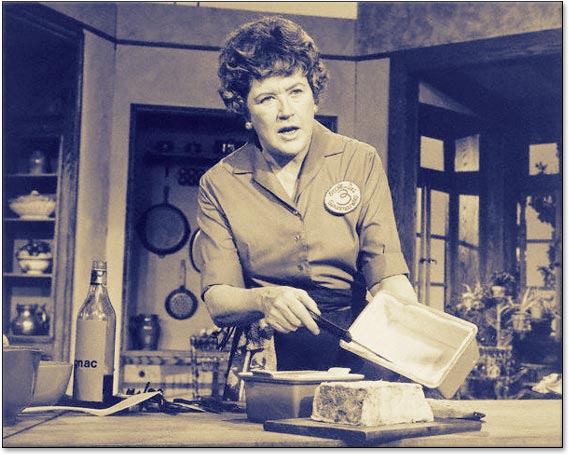 What about you? Do you enjoy cooking or is it something you do because you have to feed your family? How did you learn to cook? I would love to hear from y'all!!