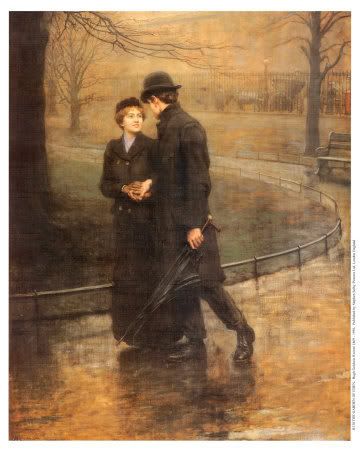 I enjoy reading Mrs. Schlueter's blog,
The Hope Blog
. The way she writes seems to just pull me in. Her recent post about her love for her husband is no exception. I'm not going to spoil this sweet story for you, so be sure to
vist her blog and read it for yourself
.
I share this photo because it is the same one that she shared on this particular post. I have fallen in love with this piece of art! I've never been one to be able to choose one certain painting that I really enjoyed because there are SO many wonderful works of art. However, after reading what Mrs. Schlueter wrote about Hugh Riviere's, The Garden of Eden, I knew that I had found the one work of art I could finally claim as my favorite.
Here's what she says
...
The photo above is a print of Hugh Riviere's painting, The Garden of Eden, and a copy hangs in a prominent place in our home. The focal point in the painting is the woman's face as she looks at her shabby, but beloved man as they walk in the dreary rain. Her face glows because she is with the person she loves above all else. That love transforms the sodden, gray park into her Garden of Eden. That's what love does. The difficult and dreary things in life aren't nearly so bad when real love is there.