I LOVE LOVE LOOOOOOVE cookies!! It is just so much fun to bake them, eat them and share them!!
This cookie's inspiration came from a recipe in Nancy Baggett's
The All-American Cookie Book
. She shared just a vanilla cookie, but I decided that lemon sugar cookies were just the thing I needed to take to a bridal shower this past Saturday. They were yummy.
Oh, and let me add, this was, by far, the BEST and EASIEST sugar cookie dough I have EVER worked with!
Happy baking!!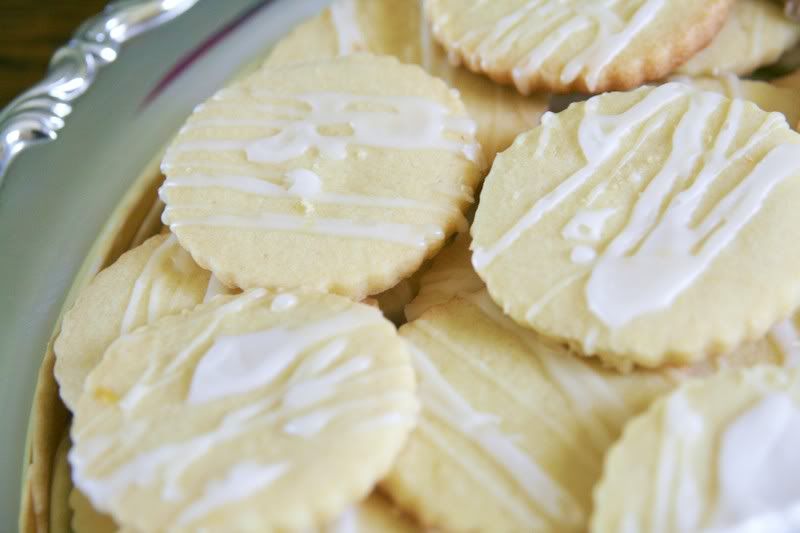 Lemon Sugar Cookies
2 1/2 cups all purpose flour
1 tsp baking powder
2 sticks unsalted butter, softened
1 cup sugar
2 large egg yolks
Generous pinch of salt
1 3/4 tsp vanilla extract
1/2 tsp lemon extract
zest of 1 lemon
In a large bowl, whisk together flour and baking powder and set aside. In another large bowl, use an electric mixer on medium speed and beat together butter and sugar until well blended and fluffy. Beat in egg yolks and then salt, vanilla and lemon zest. Gradually beat in flour mixture to form a smooth dough.
Divide dough in half. Place each portion between large sheets of wax paper. Roll out each portion 1/8 inch thick; check the underside of the dough and smooth out any wrinkles that form. Stack the rolled portions (paper still attached) on large baking sheet and refrigerate 30 minutes or freeze 15 minutes.
Preheat oven to 375 degrees. *
Working with one portion of dough at a time (leave the remaining dough chilling), gently pulled away top and bottom of wax paper. Using cookie cutters, cut into desired shapes and carefully place on cookie sheets. (Hint: My dough was so chilled that the dough stuck to the inside of the cookie cutter. I just tapped it out above the cookie sheet and it fell onto the cookie sheet in place.) Reroll any dough scraps and chill again.
Bake cookies at 375 degrees for 8 to 11 minutes. Check half way through baking to see if you need to rotate your cookies for even doneness. Also, PLEASE PAY ATTENTION TO YOUR OVEN!!!! All ovens bake differently. Pay attention to your cookies so that they do not burn.
After removing from oven, let cookies rest on cookie sheet for 1 to 2 minutes and then carefully remove from cookie sheets and place on cooling racks. Cool completely before using lemon glaze.
Lemon Glaze
1 cup powdered sugar
juice of 1 lemon
Stir together. You may need to add a few drops of water to get this to drizzling consistency. Then drizzle cookies with glaze, let set and then enjoy!!!
* Ms. Baggett suggests greasing cookie sheets before baking, but I found that unnecessary. You may feel more comfortable doing that, however.