It's no secret that
I love a good cup of tea
. My favorite way to take my tea is with a drizzle of
sage honey
and a splash of milk. Mmmmm. And this is all fine and dandy.
Usually.
I always buy my honey from the
co-op that I order my wheat from
. When I placed my order last week, I was informed that there is NO SAGE HONEY!!!! Apparently there were some brush fires that ruined the sage bushes and the sage honey supply is low and this means no sage honey for me!!!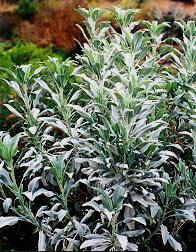 (a sage plant)
So, I am trying to find a decent alternative to sage honey until the supply is built back up (probably not available until September! OH NO!!!). Stevia is bitter. Clover honey is too strong. Sugar is just not right. I am not a happy camper, folks. Sigh.
My tea won't be the same until my wonderful sage honey is back in our home. There are sad, sad days ahead for me and my tea cup.